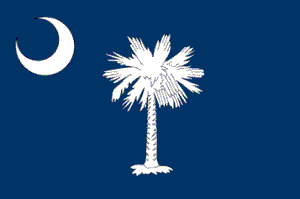 SOUTH CAROLINA STATE FLAG
South Carolina (/ˌkærəˈlaɪnə/ (
listen)) is a state in the Southeastern United States and the easternmost of the Deep South. It is bordered to the north by North Carolina, to the southeast by the Atlantic Ocean, and to the southwest by Georgia across the Savannah River.
South Carolina became the eighth state to ratify the U.S. Constitution on May 23, 1788. South Carolina became the first state to vote in favor of secession from the Union on December 20, 1860. After the American Civil War, it was readmitted into the United States on June 25, 1868.
South Carolina is the 40th most extensive and 23rd most populous U.S. state. Its GDP as of 2013 was $183.6 billion, with an annual growth rate of 3.13%.[6] South Carolina is composed of 46 counties. The capital is Columbia with a 2016 population of 134,309; while its largest city is Charleston with a 2016 population of 134,385. The Greenville-Anderson-Mauldin metropolitan area is the largest in the state, with a 2016 population estimate of 884,975.
South Carolina is named in honor of King Charles I of England, who first formed the English colony, with Carolus being Latin for "Charles".[7]
South Carolina is known for its 187 miles of coastline, beautiful lush gardens, historic sites and Southern plantations, colonial, African and European cultures, and its growing economic development.
Wikipedia contributors. (2018, December 14). South Carolina. In Wikipedia, The Free Encyclopedia. Retrieved 15:30, December 14, 2018, from https://en.wikipedia.org/w/index.php?title=South_Carolina&oldid=873630822
---
We Also Recommend
---