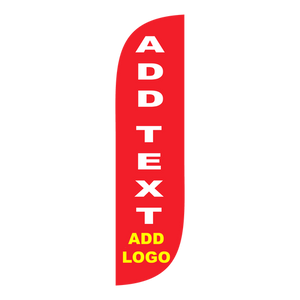 FEATHER FLAGS
Choose from our available stock or customize your own with your company logo!
Feather Blade flags are the latest and greatest way of promoting your business. At low cost and maintenance, a slight wind will make your swooper flags come to life.

The light weight durable material makes Feather Blade flags easy to handle and to care for. Our flags are available in a multitude of designs and colors. There is a flag for every need.

Are you afraid sales are not picking up or how you expected it to be? Buy our Feather Blade flags now and post them around your lot and see the difference.
Flags are made of a super knitted polyester.
Size is 2 feet 5 1/2 inch wide X 11 feet 5 3/5 inch tall and has a sewn sleeve.
Sleeve is designed to slip easily over the flagpole.
Feather Blade Flag Kits Include
Feather Blade Flag
Heavy duty 3 piece aluminum pole
Heavy duty welded ground spike
---