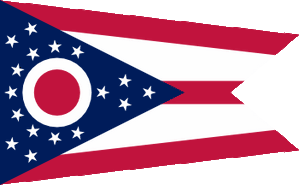 OHIO STATE FLAG
Ohio /oʊˈhaɪoʊ/ (
listen) is a Midwestern state in the Great Lakes region of the United States. Of the fifty states, it is the 34th largest by area, the seventh most populous, and the tenth most densely populated. The state's capital and largest city is Columbus.
The state takes its name from the Ohio River, whose name in turn originated from the Seneca word ohiːyo', meaning "good river", "great river" or "large creek".[16][17][18] Partitioned from the Northwest Territory, Ohio was the 17th state admitted to the Union on March 1, 1803, and the first under the Northwest Ordinance.[13][19] Ohio is historically known as the "Buckeye State" after its Ohio buckeye trees, and Ohioans are also known as "Buckeyes".[5]
The government of Ohio is composed of the executive branch, led by the Governor; the legislative branch, which comprises the bicameral Ohio General Assembly; and the judicial branch, led by the state Supreme Court. Ohio occupies 16 seats in the United States House of Representatives.[20] Ohio is known for its status as both a swing state[21] and a bellwether[21] in national elections. Six Presidents of the United States have been elected who had Ohio as their home state.
Wikipedia contributors. (2018, December 7). Ohio. In Wikipedia, The Free Encyclopedia. Retrieved 15:47, December 14, 2018, from https://en.wikipedia.org/w/index.php?title=Ohio&oldid=872497278
---
We Also Recommend
---